It's a quiet neighborhood. In the summer everyone keeps their windows open to let fresh air and the sound of crickets in. For the last few weeks, though, I've been hearing my neighbor Richard and his wife Victoria; I hope their two daughters don't hear them. Sometimes Victoria cries for such a long time and when I go to the window to look across the lawn, I see their shadows so close together. // C'est un quartier plutôt calme. En été tout le monde laisse ouvert leur fenêtre pour faire entrer de l'air frais ainsi que le son des criquets. Depuis quelques semaines, pourtant, j'entends mon voisin Richard et sa femme Victoria ; j'espère que leurs deux filles ne les entendent pas. Certaines nuits les sanglots de Victoria durent si longtemps et quand je me mets à la fenêtre pour regarder vers chez eux, je vois que leurs ombres se touchent.
Once a week for the last two months, they've taken their oldest girl Jenny somewhere in the car. Megan, three years younger, would stand at the door and wave them off, looking sad. I've heard her say something about going to the beach every time her family returns home. // Une fois par semaine depuis deux mois, ils emmènent leur fille ânée Jenny quelque part en voiture. Megan, trois ans plus jeune, reste à la porte et leur fait un signe chaleureux mais avec un regard triste lorsqu'ils partent. Chaque fois que sa famille et de retour, Je l'entends dire un mot à propos d'une après-midi à la plage.
Jenny's getting paler and thinner, and her parents are looking more tired and distraught than before. I was out on the porch yesterday morning, reading the paper and drinking some coffee, and saw Richard going through some mail. His head fell down, he held the envelopes close to his chest, threw his head back and began sobbing – right out in the front lawn. // Jenny devient de plus en plus pâle et mince, et ses parents de plus en plus fatigués et éperdus qu'auparavant. J'étais assis sur la véranda hier matin, avec le journal et une tasse de café, et j'ai vu Richard fuyait dans ses courriers. Sa tête était tombée vers ses pieds, il tenait une enveloppe contre sa poitrine, il s'est basculé sa tête en arrière et il s'est mis à pleurer – juste là sur la pelouse. 
He and Victoria took Jenny out again, but when they came home, Jenny wasn't with them. Megan ran to the front door, mumbled something about the beach again, and then asked where her sister was. Richard knelt down to talk softly to Megan. He told her that Jenny needed rest and was taking a small vacation. Megan seemed upset, but accepted this response by going inside quietly. // Avec Victoria, ils sont partis à nouveau avec Jenny, mais quand ils sont revenus, Jenny n'était pas à leur côté. Megan est arrivée en courant à l'entrée de la maison, elle a murmurée quelque chose à propos de la plage encore, et ensuite elle a demandé ou était sa sœur. Richard s'est agenouillé pour lui parler doucement. Il lui a dit que Jenny avait besoin de repos et qu'elle prenait un petit séjour. Megan avait l'air contrariée, mais elle a accepté cette réponse en rentrant calmement dans la maison.
I'm on my way home from work and get a call from my ex-wife. She starts yelling at me, something about not telling her what's going on; it's like we never got divorced. // Je suis en route chez moi du bureau lorsque je reçois un appel de mon ex-femme. Elle me crie dessus, quelque chose du fait que je ne lui a pas dit ce qui se passait. C'est comme si on s'est jamais divorcés.
***
True Story written by Jenny // Vraie Histoire écrite par Jenny
I woke up early today. It's Saturday and we're going to the beach. I was waiting for this 2 months ago… I woke up early, and gathered all mys tuff, and went to wake Jenny up. But it seems she already woke up. I didn't find anyone in the house. But.. but they promised to take me with them to the beach. I started crying. Then Grandma told me that Jenny is sick and they're in the doctor.. // Je me suis réveillée tôt ce matin. C'est samedi et on va à la plage. J'attendais ça pour deux mois. Je me suis réveillée tôt, j'ai pris mes affaires, et je suis allée chercher Jenny pour la réveiller. Mais il me semble qu'elle se réveille déjà. Je ne trouvais personne dans la maison. Mais… mais ils ont promis de m'emmener avec eux a la plage. J'ai commencé a pleuré. Puis mamie m'a dit que Jenny est malade et ils ont dans le medecin. 
Then they came back home… I asked if we could still go to the beach, but mom said "Jenny's a little tired, and we may go next week" as she kissed my forehead with tears. The next day, I woke up. Jenny was still sleeping, I went to wake her up. But mommy says to let her take some rest. In the noon, daddy came back from work holding two big envelopes in his hands and some tears on his face. // Puis ils sont revenus et j'ai demandé si on pourvait toujours aller à la plage, mais maman m'a dit que « Jenny est un peu fatiguée alors on y va peut-être la semaine prochaine » et elle m'embrasse le front avec des larmes. Le lendemain, je me suis réveillée et Jenny dormait toujours. J'ai voulu la réveiller mais maman me dit de la laisser dormir. Dans le midi, papa est revenu du travail avec deux grosses enveloppes dans ses mains et des larmes sur son visage.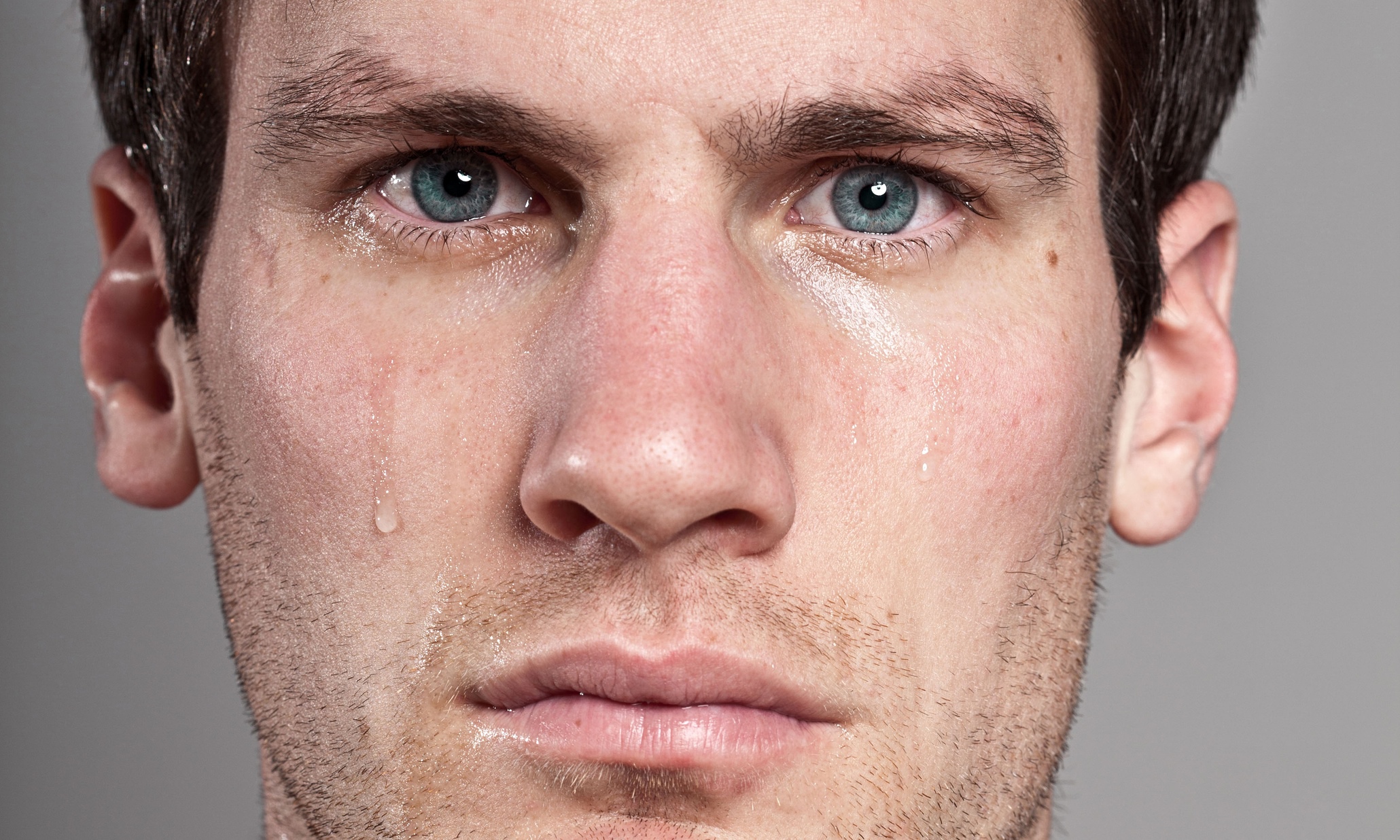 I rushed to daddy. "Dad! Why are you crying? What's wrong?" // Je suis allée vite vers papa. « Papa ! Pourquoi pleurs tu ? Que se passe-t-il ? »
Mommy also started to cry. "Mom! Dad! What's wrong?" Mom said nothing and just hugged me with tears all over her face. I don't understand any of this, but what I know is that Jenny and mom keep on going to the doctor. Few days later, I went to wake Jenny up. She wasn't in her bed. But her pillow was full of hair. // Mama se mets à pleurer aussi. « Mama ! Papa ! Que se passe-t-il ? » Mama ne dit rien mais elle me sert fort dans ses bras, son visage couvert de larmes. Je ne comprends rien de tout ça, mais ce que je sais c'est que Jenny et maman vont toujours chez le médecin. Quelques jours plus tard, je vais réveiller Jenny mais elle n'était pas dans son lit. Mais son oreiller était couvert de cheveux.
There was hair all over her bed and on the floor, and Jenny was in the bathroom vomiting. Things in the house really changed. I may not understand how, but I know not in a very good way. Every night I go to bed and pray, "God, please make things good again. I promise I won't ask to go to the beach anymore." // Il y avait de cheveux de partout son lit et le sol, et Jenny était dans la salle de bain à vomir. Les choses dans la maison ont beaucoup change. Je ne comprends peut-être pas comment, mais je sais que pas pour le bien. Chaque nuit je vais au lit et je prie, « Dieu, s'il vous plait, remettez bien les choses. Je promets de plus demander d'aller à la plage. »
As days passed, things got more weird. Jenny's always taking medicines and wearing this ugly hat. And one day, they were packing Jenny's stuff. "Mom, where is Jenny going?" "She's going for a few days honey." "But she's coming back soon, isn't she," I asked. " Let's hope so," as a tear rolled down mommy's cheeks. // Les jours se passent, et les choses deviennent de plus bizarres. Jenny prend toujours des médicaments et elle porte un chapeau bien moche. Un jour, ils mettaient des affaires de Jenny dans un sac. « Mama, ou elle va Jenny ? » « Elle part pour quelques jours, ma chérie. » « Mais elle revient bientôt, non ? » j'ai demandé. « Espérons » maman dit avec des larmes sur ses joues.
That night when Jenny was leaving, she hugged me so tight. "Take care of yourself! You're a big girl." "But Jenny, why are you crying? I'll see you in a few days." She kissed me goodbye as tears covered her face. Mommy and daddy left with Jenny, and I stayed with Grandma. Few days later, mom and dad came back. Alone… // Cette nuit quand Jenny partait, elle m'a serrée super fort. « Prends soin de toi ! Tu es une grande fille. » « Mais Jenny, pourquoi pleurs tu ? Je te vois en quelques jours. » Elle m'a embrassé, son visage aussi couvert de larmes. Maman et papa partent avec Jenny et je suis restée avec mamie. Quelques jours plus tard, ils reviennent. Seuls…
"Listen, sweety, Jenny's gone for a trip." "Yeah, I know. When is she coming back? I started to miss her." Mom started to cry again. "What's wrong mommy?" "This time Jenny's trip is taking her a long time and she's not coming back," dad told me with tears. "No dad! NO! Jenny loves me! She would never go! No no no! Tears started flooding out of my eyes. No! Jenny won't ever leave!" // « Ecoute, chérie, Jenny est partie en séjour. » « Oui, je sais. Quand revient-elle ? Elle a commencé à me manquer. » Maman s'est mis a pleuré de nouveau. « Que se passe-t-il maman ? » « Cette fois, le séjour de Jenny va durer plus longtemps et elle ne revient plus. » Papa me l'a dit avec des larmes. « No papa, NO ! Jenny m'aime ! Elle ne serait jamais partie ! No no no ! Mes yeux envoient des larmes dans tous les sens. No ! Jenny ne partira jamais ! »
"Someday when you grow up, you'll understand why did she have to leave." // "Un jour quand tu seras grande, tu comprendras pourquoi elle a du partir."
Even though I don't know why did Jenny leave, I somehow know that she had to. // Même si je ne comprends pas pourquoi elle est partie, je sais sans savoir comment qu'elle devait le faire. 
I love you Jenny. You'll be forever my beloved sister. Even if I can't see you, I know you be looking upon me. // Je t'aime Jenny. Tu seras ma sœur bien aimée pour toujours. Même si je ne te vois pas, je sais que tu veilles sur moi. 
(None of the featured images are from Jenny and her family. They're simply to offer illustrations.) // (Aucune des images sont de Jenny ou sa famille. Elles offrent tout simplement des illustrations.)